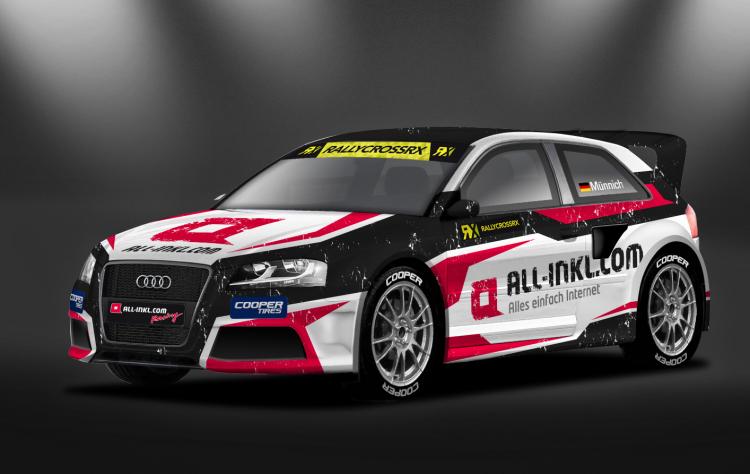 By Johan Laubscher
A two-car full-season entry will be fielded by ALL-INKL.com Münnich Motorsport in the 2015 FIA World Rallycross Championship. The German squad will be running two new Audi S3 RX Supercar machines. René Münnich and his team are aiming to be competitive, whilst further developing their Audi S3 package during 2015 in order to fight for the title in 2016.
This announcement sees Münnich Motorsport upping its Audi S3 entry from one to two cars and committing to a full-season entry, following their partial entry during 2014. The team was seen testing their first black Audi S3 with aggressive RS 3 inspired bodywork during 2013. Their original Audi S3 served as a development platform for their primary chassis which debuted at a round of Rallycross Challenge Europe during 2014, after which they entered selected rounds of the 2014 FIA World Rallycross Championship for further development.
The new Audi S3 cars have been further developed with new and revised components, including the engine, gearbox, brakes, differential, suspension and weight balance packages.
The new 2015 ALL-INKL.com Münnich Motorsport livery has once again been penned by
berzerkdesign
. It features a new brighter red, white and black colour-scheme for the pair of Audi S3 cars.
The official press release (in German) can be seen
HERE
.
Montalegre in Portugal will be hosting the opening round of the season from 24-26 April.
Photo credit:
berzerkdesign.de
/
all-inkl.com münnich motorsport
(JKR/
ERC24.com
)