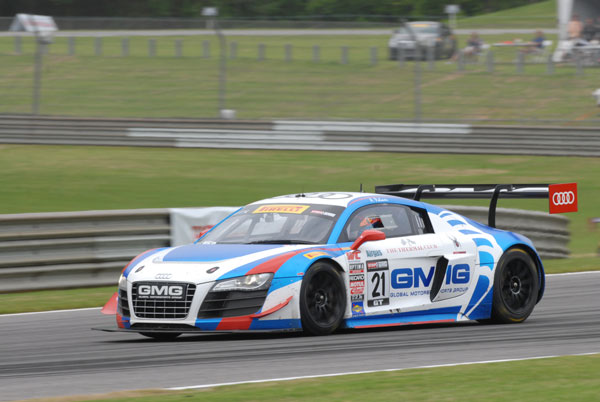 GMG Racing Press Release
After an intense race in which Global Motorsports Group's (GMG) Andrew Palmer hunted down the race leader for much of the 50-minute event, a last-lap pass would put the 19-year old in the lead during the final moments of the race, giving the series rookie his first overall victory in a brief Pirelli World Challenge career. It would also mark the first North American win for the Audi R8 LMS ultra.
jpeg"That was incredible!" stated Palmer. "I was chasing Anthony down the whole race and putting pressure on him, but the Ferrari was really strong down the straights, which made it tough to pass, especially in traffic. I stayed focused on pressuring him the whole time, and he made a slight mistake coming out of turn 10. I took the opportunity where I could, and was able to get around on the outside. When the checkered flag fell it all became very real, I couldn't be happier. Everyone at GMG, Spyder, and The Thermal Club have done such an excellent job getting me prepared, and I'm just so grateful to be here."
For GMG's team owner James Sofronas, Andrew's progress and development within the team has been a great testament to his organization.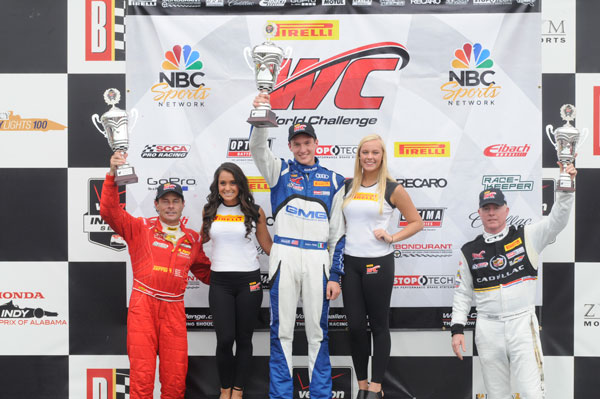 "I couldn't be happier for Andrew and everyone on the team," stated Sofronas. "From the moment Andrew tested with us last year, it was clear we had a true star in the making, and I'm incredibly proud to see Andrew develop and flourish with our organization. We are a customer team, and Andrew's ability to jump in and take this opportunity very seriously has proven incredibly fruitful. I hope he enjoys this one tonight. As a team owner, it's even more satisfying to see your teammates thrive, and today is proof of that."
Following a disappointing Race One on Saturday, in which Palmer and the No. 21 Spyder / The Thermal Club Audi R8 LMS ultra suffered a spin as a result of a debris-induced tire blowout, the Pomona College student's fastest race lap would set him up to start on pole for today's race. Making a strong start, Palmer would be eclipsed in the first turn by the No. 61 Ferrari 458 GT3 Italia of Anthony Lazzaro, with a multi-car pileup behind them creating an extended caution period. As the race re-started, Palmer would give chase to the Ferrari. However, the straight-line speed of the No. 61was visibly stronger than the Audi, making it impossible to pass.
As the race wore on and tire management proved critical, Palmer would do his best to make work of the Ferrari in traffic, however Lazzaro was able to keep the young charger at bay. Doing his best to keep pressure on, Palmer was glued to the back of the Ferrari for much of the race, and on the last lap Lazzaro would run wide coming out of Turn 10, giving Palmer a brief chance to pull alongside, which he did masterfully. That was all Andrew needed, and he navigated the final corners without putting a foot wrong, taking the checkered flag for his first overall win.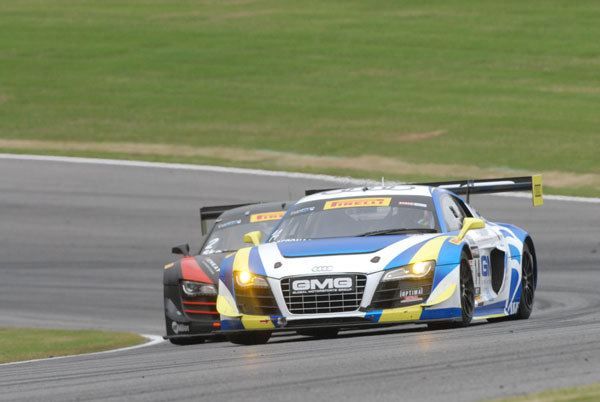 For Sofronas, a fairly quiet weekend would be in store for the No. 14 Mobil 1 / The Thermal Club / Spyder Audi R8 LMS ultra. In Race One, a strong start from ninth would put the Villa Park, California resident up to fifth where he would engage in an incredible race-long battle between second through fifth position. Struggling to match the straight-line pace of the Ferrari and Cadillac, Sofronas could do little to advance position eventually settling for fourth. He would finish as the top Audi in Race One.
In Race Two, James would start from the inside of the third row making a steady start before the race fell under caution. As the race resumed, James found himself in a race-long battle with a fellow Audi competitor, the No. 2 of Mike Skeen. The two pushed each other hard during the middle portion of the race where Sofronas would eventually settle in for sixth position at the checkered flag.
"As a driver, it was a pretty quiet weekend for me," stated Sofronas. "The car was really good and I gave it what I had, the guys did their usual excellent job getting it prepared. There were some great fights all weekend, and I'm glad we were able to bring it all home in one piece. The crew really deserves a lot of praise for the weekend, they've been putting so many hours into getting our cars ready for three events in five weeks and celebrating a win is a great reward."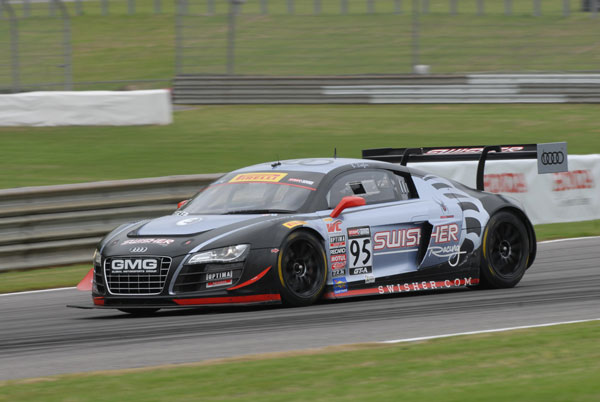 For team veteran Bill Ziegler, a series of consecutive finishes on the weekend would net the Florida resident his best result this season. In Race One, a mid-race spin would send the No. 95 Swisher Racing Audi R8 LMS ultra towards the back of the field. However, a great recovery effort would allow him to climb back up to take eighth-place honors.
In Race Two, Ziegler mounted a steady charge all race long, locking himself in several on-track battles to take a fantastic sixth place in the series' GT-A category, his best result of the season.
"It was nice to have a good, clean race today," stated Ziegler. "I came into today's race looking to just have a fun, consistent run and we delivered just that. The car was consistent and well prepared, and I think that played a strong role in taking our best finish of the season."
Finally, Bret Curtis would have a shortened weekend in the No. 32 United Steel Supply / Spectra Resources / Valspar Audi R8 LMS ultra. After narrowly missing the GT-A category podium in Race One, a recurring injury to his shoulder was aggravated in the process forcing the Texan to miss Race Two.
Following a busy open to the season in which the series ran four races in five weeks, the Pirelli World Challenge will take a small break for the GT and GTS categories returning in one month's time at the Chevrolet Detroit Belle Isle Grand Prix on May 30 and June 1.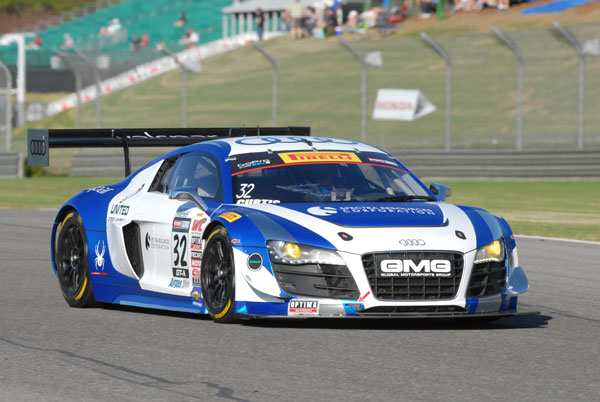 Television coverage of this weekend's race can be found next Saturday,
May 10, at 4PM ET on NBC Sports Network.
About GMG
Founded in 2001 by James Sofronas and Fabryce Kutyba, GMG has quickly established itself as North America's premier performance tuning and racing facility. What began as a small 1200 sq. ft. shop, maintaining two race cars, has grown into a 30,000 sq. ft. state-of-the-art performance tuning, racing and service facility located in (Orange County) Santa Ana, California. The staff's experience, attention to detail, and passion are what make GMG the choice of professionals and enthusiasts world wide. Whether you want to maximize the performance of your street car, or race wheel-to-wheel on both amateur and professional racing series across North America, GMG's reputation for service and quality is unmatched. Learn more at www.gmgracing.com
About Spyder
Spyder was founded by avid skier and outdoor athlete David Jacobs. He rose to world-class rankings as a competitive skier, and stayed connected to the sport he loves by coaching, designing related products, and building one of the most powerful brands in the industry. His dedication to the sport of skiing and the Spyder brand is as inspiring as it is intriguing. Spyder's growth exploded over the turn of the century, and the company is now the largest ski-specialty brand in the world. David has recently discovered the adrenaline rush in racing classic Formula One cars, finding success - not surprisingly - in this new pastime. For a man who's thrived on sports, technology, and professional advancement, the world is sure to see David go a few more times around the track. Learn more at www.spyder.com
About The Thermal Club
The Thermal Club is the premier private motorsports facility in the world. In addition to 4.5 miles of members-only racetrack, the Club facilities include a fully amenitized Clubhouse and Village unrivaled in the motorsports world. All 4.5 miles of our exquisite racetrack are designed to push both amateurs and professionals to their limit, giving members the thrill of driving at peak performance amidst the endless desert skies. Featuring three different private circuit configurations, trackside villas, a motorsport village with a state-of-the-art clubhouse, tuning shop, a fuel island, as well as member storage garages, The Thermal Club will bring the country club lifestyle to Southern California's diverse car culture. More information can be found at www.thethermalclub.com.
Photo credit:
GMG Racing