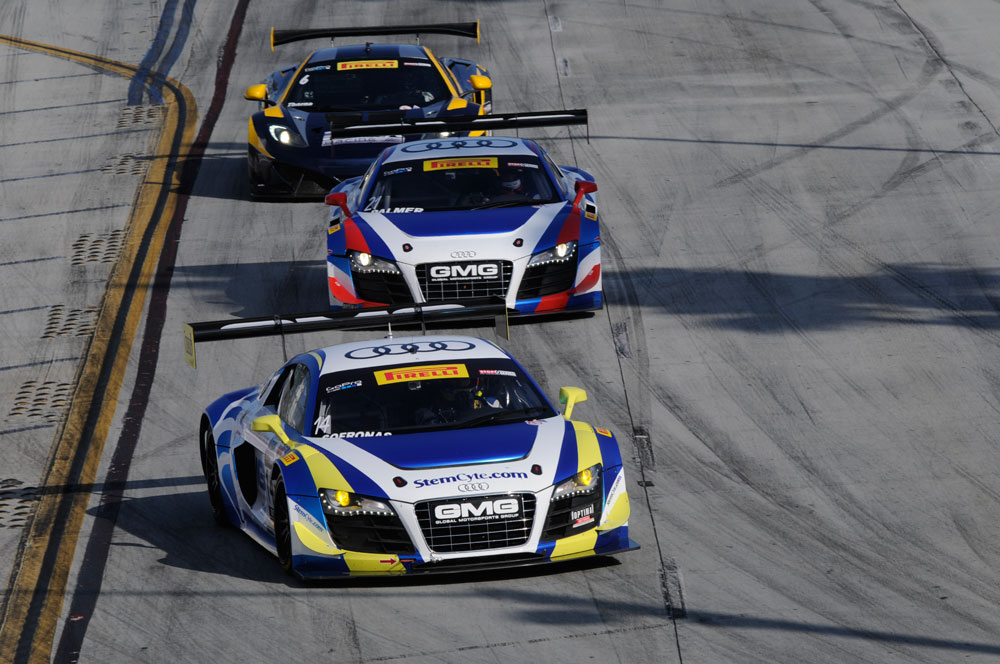 GMG Racing Press Release
SANTA ANA, Calif. - Following a string of top fives, including Andrew Palmer's third-place finish in his Pirelli World Challenge debut, Global Motorsports Group (GMG) heads to this weekend's third and fourth rounds at Barber Motorsports Park in search of further points for the team.
"We couldn't have raced any harder at Long Beach," stated James Sofronas, team owner and driver. "We've put so much time into developing, learning, and perfecting these new Audi R8 LMS ultras, hopefully Barber will be where we see some fruit. It's a tricky track that requires everything: top speed, high-speed handling, strong brakes, and definitely tire management. It's going be interesting to see how our cars fair."
Currently fourth in the series' GT rankings, rookie Andrew Palmer is looking to continue an impressive start to the 2014 season. Qualifying and finishing as the top Audi in every event this year, the 19-year old has done a remarkable job of balancing speed with patience at a level far beyond his years. Having literally driven his first car race just seven months ago, Andrew and the No. 21 Spyder / The Thermal Club Audi R8 LMS ultra are in search of furthering his points tally at the series' first permanent road course of the year.
"It's been a great first two races, however, I'm excited to head to a traditional road course," stated Palmer. "Although I've never driven at Barber, the circuit is a lot closer to what I've experienced in the past in karting and in my 2013 races. It will be great to finally battle at a high-speed track with a lot of elevation changes, and should prove a great event for everyone watching. GMG has done a great job getting me prepared and hopefully we can challenge even further."
Despite decades of experience in both the Pirelli World Challenge and IMSA Tudor SportsCar Championship, GMG's James Sofronas has only raced once at the famed circuit. Luckily, Sofronas' long-standing relationship with the simulator company Virtual GT has payed large dividends for the Villa Park, California resident who will head to this weekend's event with plenty of simulator experience.
"Barber is a track that has always offered plenty of excitement for the other series that have raced there," stated the driver of the No. 14 Mobil 1 / Spyder / The Thermal Club Audi R8 LMS ultra. "The Pirelli World Challenge should provide plenty of excitement at Barber and I'm anxious to see how the Audi holds up. We're really utilizing our relationship with Virtual GT to the fullest with this weekend as we've used the simulator to really understand the track and the unique qualities it provides."
Following a strong showing at the most recent round at Long Beach, Bret Curtis heads to Barber with a strong eye toward his first podium in the all-new GT-A category. Driving the No. 32 Spectra Resources / United Steel / Valspar Audi R8 LMS ultra, the Texas resident will arrive at Barber with enthusiasm towards the twisty hillsides of Alabama.
"Barber Motorsports Park is an incredibly scenic track," stated Curtis. "While the track is new to me, there's an abundance of resources out there to learn it, and luckily GMG has always done a great job to prepare us for the weekend. It should provide some great racing."
Finally, Bill Ziegler will return to the team in search of redemption after Long Beach. Plagued with a gearbox issue that forced an early retirement, the Florida native will head into this weekend in search of capitalizing off of a potential GT-A podium at the most recent round.
"We were looking really good before the gearbox issue took us out," stated the driver of the No. 95 Swisher Racing Audi R8 LMS ultra. "Barber should be much easier on the car, and with that all emphasis should be on speed and navigating traffic. We're feeling positive about Barber."
The Pirelli World Challenge will feature their first double-header of the season this weekend with round three taking place on Saturday, April 26, and round four on Sunday, April 27. Live coverage can be found at www.world-challengetv.com on Saturday at 3:30PM and on Sunday at 10:30AM.
About GMG
Founded in 2001 by James Sofronas and Fabryce Kutyba, GMG has quickly established itself as North America's premier performance tuning and racing facility. What began as a small 1200 sq. ft. shop, maintaining two race cars, has grown into a 30,000 sq. ft. state-of-the-art performance tuning, racing and service facility located in (Orange County) Santa Ana, California. The staff's experience, attention to detail, and passion are what make GMG the choice of professionals and enthusiasts world wide. Whether you want to maximize the performance of your street car, or race wheel-to-wheel on both amateur and professional racing series across North America, GMG's reputation for service and quality is unmatched. Learn more at www.gmgracing.com
About Spyder
Spyder was founded by avid skier and outdoor athlete David Jacobs. He rose to world-class rankings as a competitive skier, and stayed connected to the sport he loves by coaching, designing related products, and building one of the most powerful brands in the industry. His dedication to the sport of skiing and the Spyder brand is as inspiring as it is intriguing. Spyder's growth exploded over the turn of the century, and the company is now the largest ski-specialty brand in the world. David has recently discovered the adrenaline rush in racing classic Formula One cars, finding success – not surprisingly – in this new pastime. For a man who's thrived on sports, technology, and professional advancement, the world is sure to see David go a few more times around the track. Learn more at www.spyder.com
About The Thermal Club
The Thermal Club is the premier private motorsports facility in the world. In addition to 4.5 miles of members-only racetrack, the Club facilities include a fully amenitized Clubhouse and Village unrivaled in the motorsports world. All 4.5 miles of our exquisite racetrack are designed to push both amateurs and professionals to their limit, giving members the thrill of driving at peak performance amidst the endless desert skies. Featuring three different private circuit configurations, trackside villas, a motorsport village with a state-of-the-art clubhouse, tuning shop, a fuel island, as well as member storage garages, The Thermal Club will bring the country club lifestyle to Southern California's diverse car culture. More information can be found at www.thethermalclub.com.
About Mobil 1
Conventional oil is simply refined crude oil. Mobil 1 synthetic oil, however, is not only refined, but it is also distilled, purified, and broken down into its basic molecules. It is then rebuilt and added to, so that it can better protect against wear, high heat, cold weather and sludge buildup. Ultimately, this process helps your car's engine run better for longer. You can explore more about these benefits below. Learn more at www.mobiloil.com
Photo credit:
GMG Racing