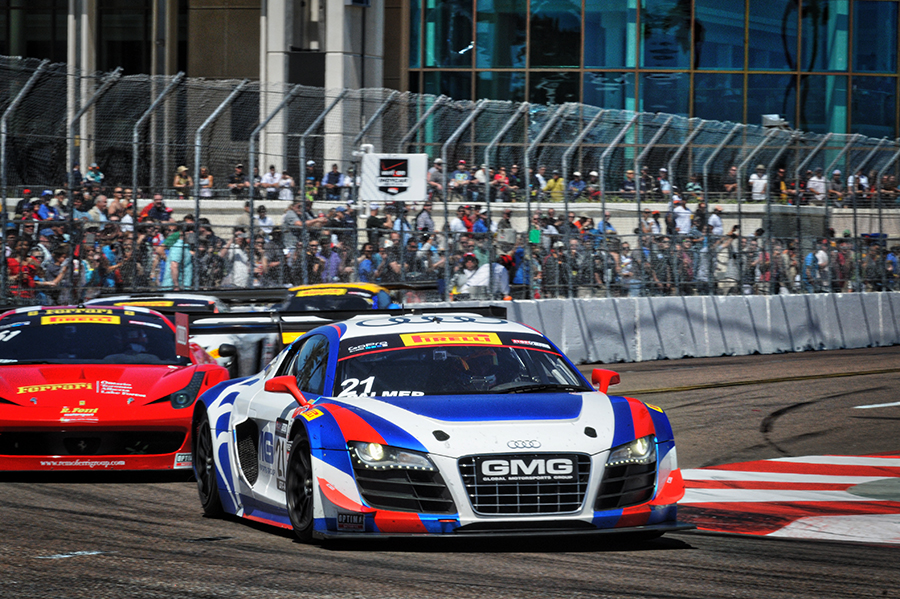 GMG Racing Press Release
SANTA ANA, Calif. -With the long-heralded Toyota Grand Prix of Long Beach taking place this weekend in the city's scenic downtown, Global Motorsports Group (GMG) will bring five cars to contest this year's second round of the Pirelli World Challenge championship.Having taken a surprise last-lap victory during the 2013 race, the team enters this weekend with modest expectations on the 2014 round.
"This year's Pirelli World Challenge is incredibly competitive," stated GMG team owner James Sofronas. "At St. Petersburg it was a huge thrill to see so many great marques and teams, it's great for the series. We've been as prepared as ever for it and we're looking forward to pushing at our home race. We will have a ton of guests and clients on hand to watch and we look forward to delivering the best result we can."
Taking to the 1.968-mile temporary street circuit, the bumpy and tight nature of the Long Beach race should prove an interesting challenge for GMG's Audi R8 LMS ultra fleet. With the season-opening round at St. Petersburg demonstrating the car's strength under braking, but overall weakness on straight-line speed and outright pace, the driver lineup of Sofronas, Andrew Palmer, Bret Curtis, Bill Ziegler, and Brent Holden is coming as prepared as possible. Coming off of a recent test last week at The Thermal Club, a private racing facility located near Palm Springs, the team was able to continue the ever-evolving development of their program.
Driving the No. 14 Spyder / The Thermal Club Audi R8 LMS ultra, James Sofronas will be headed to Long Beach in search of a third victory at his home track. One year ago, Sofronas came into the closing laps in third when a surprise brake failure would take out leader Alex Figge with a component of Figge's system crashing through second place Johnny O'Connell in the process. Sofronas would take the lead halfway through the final lap as O'Connell's car came to a grinding halt.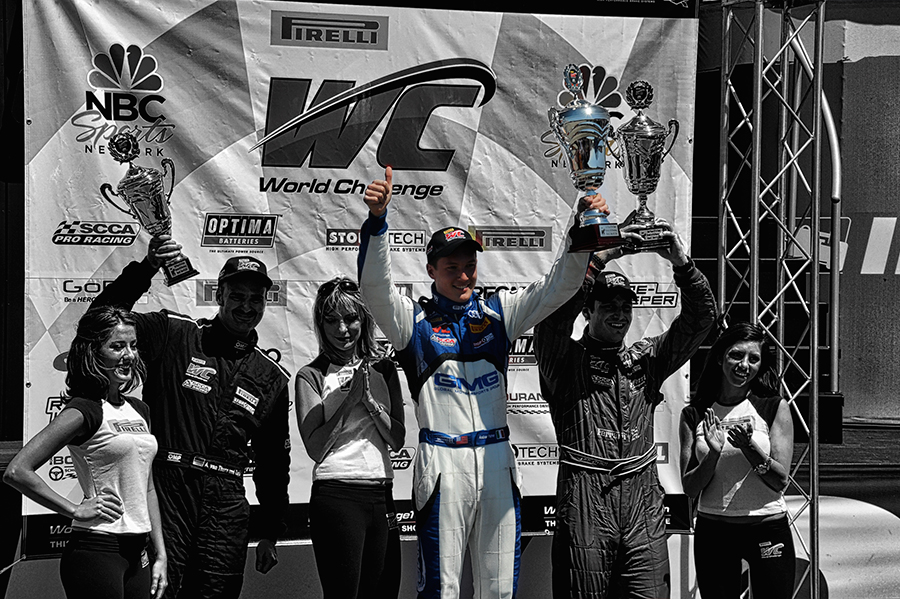 "We were incredibly lucky last year," stated Sofronas. "However, luck is only a product of preparation and opportunity and we're translating that to this year's race. We've been fortunate to be able to do a good amount of testing heading into the weekend and we're looking to deliver for our fans."
On the heels of taking a GT-A category victory and third overall in his series debut, Pomona College student Andrew Palmer heads to Long Beach with a new sense of confidence and potential. With his GT-A victory elevating the Chicago native to the pro rankings, Palmer is bringing the No. 21 machine to his first ever Long Beach Grand Prix with continued podiums in site.
"St. Pete was everything I could have asked for," stated the 19-year-old. "We weren't sure what to expect with my first Pirelli World Challenge race, but we were able to prove we could mix with some of the best and we want to carry that momentum into Long Beach. It's one of the most famous events in the world and definitely one I want to show well at, especially since it's become sort of a second home for me with my schooling."
Returning to Long Beach will be team veteran Bret Curtis driving the No. 32 Spectra Resources / United Steel / Valspar machine. Curtis, a current resident of Austin, Texas lived in nearby Westlake Village for several years making Long Beach a favorite event for the driver.
"Long Beach is a great event that you always want to be a part of," stated Curtis. "Last year's race was one of the more memorable ones, rebounding from a crazed event to take one of my top personal results in World Challenge. It will be great to come back to California and I'm looking forward to a great race."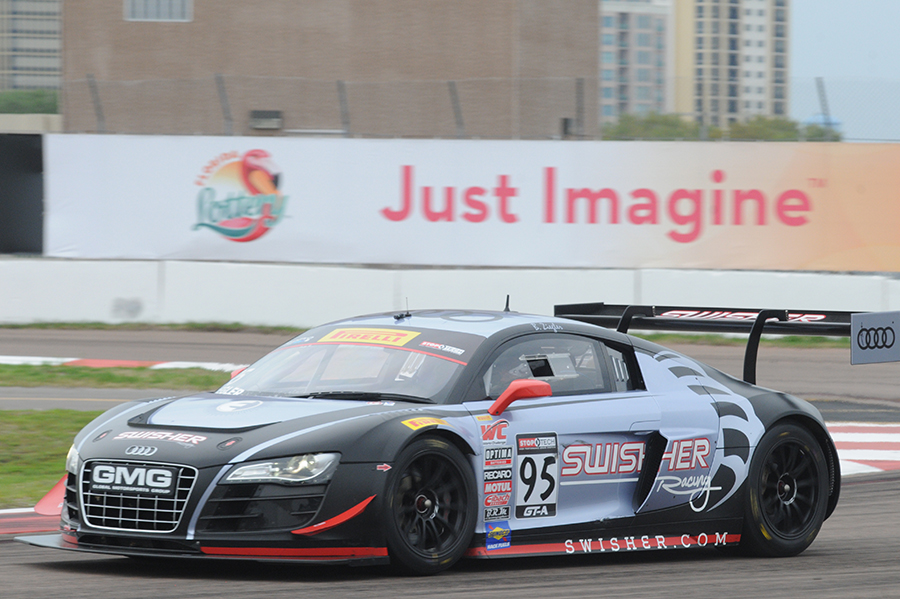 Returning in the No. 95 Swisher Racing Audi R8 LMS ultra, Bill Ziegler will head to Long Beach in search of an improved event from St. Petersburg. Following early contact during the season-opening round, the Florida native will be looking forward to returning to Long Beach with a very fast machine.
"Long Beach should be very exciting with the Audi," stated Ziegler. "We've run here several times in the past, but this car is a big step up from what we're used to and I'm looking forward to getting behind the wheel on Friday."
Finally, returning to the team will be long-time driver Brent Holden. While a veteran of the series, this will be the Californian's first race in the No. 44 Audi R8 LMS ultra. Thankfully, a recent test session at The Thermal Club, a private race facility located near Palm Springs, has allowed Holden to acclimate to the car.
"Long Beach is a race you never want to miss," stated the Newport Beach resident. "It's a tough track to run with a car you've never raced before, but fortunately The Thermal Club track has several corners that translate well to Long Beach and the Audi R8 LMS ultra is an amazingly competent car that inspires confidence."
In addition to the action on the track, GMG will also have a significant presence within the Long Beach convention center. With a massive display and vendor area, the team will service all five entries in public view for fans to look at, in addition to multiple displays for various vendors and partners. Most notably, GMG and Spyder will present a varied line of apparel from the noted clothing company, with fans having the opportunity to sample and get up close to the product.
With the first round of practice taking place this Friday, April 11, the team is currently in their final stages of preparation before making the short drive from Santa Ana to the Long Beach Convention Center. The race will take place on Sunday, April 13, and will be streamed live via world-challengetv.com at 7:00 PM ET.
About GMG
Founded in 2001 by James Sofronas and Fabryce Kutyba, GMG has quickly established itself as North America's premier performance tuning and racing facility. What began as a small 1200 sq. ft. shop, maintaining two race cars, has grown into a 30,000 sq. ft. state-of-the-art performance tuning, racing and service facility located in (Orange County) Santa Ana, California. The staff's experience, attention to detail, and passion are what make GMG the choice of professionals and enthusiasts world wide. Whether you want to maximize the performance of your street car, or race wheel-to-wheel on both amateur and professional racing series across North America, GMG's reputation for service and quality is unmatched. Learn more at www.gmgracing.com
About Spyder
Spyder was founded by avid skier and outdoor athlete David Jacobs. He rose to world-class rankings as a competitive skier, and stayed connected to the sport he loves by coaching, designing related products, and building one of the most powerful brands in the industry. His dedication to the sport of skiing and the Spyder brand is as inspiring as it is intriguing. Spyder's growth exploded over the turn of the century, and the company is now the largest ski-specialty brand in the world. David has recently discovered the adrenaline rush in racing classic Formula One cars, finding success - not surprisingly - in this new pastime. For a man who's thrived on sports, technology, and professional advancement, the world is sure to see David go a few more times around the track. Learn more at www.spyder.com
About The Thermal Club
The Thermal Club is the premier private motorsports facility in the world. In addition to 4.5 miles of members-only racetrack, the Club facilities include a fully amenitized Clubhouse and Village unrivaled in the motorsports world. All 4.5 miles of our exquisite racetrack are designed to push both amateurs and professionals to their limit, giving members the thrill of driving at peak performance amidst the endless desert skies. Featuring three different private circuit configurations, trackside villas, a motorsport village with a state-of-the-art clubhouse, tuning shop, a fuel island, as well as member storage garages, The Thermal Club will bring the country club lifestyle to Southern California's diverse car culture. More information can be found at www.thethermalclub.com.
Photo credit:
GMG Racing