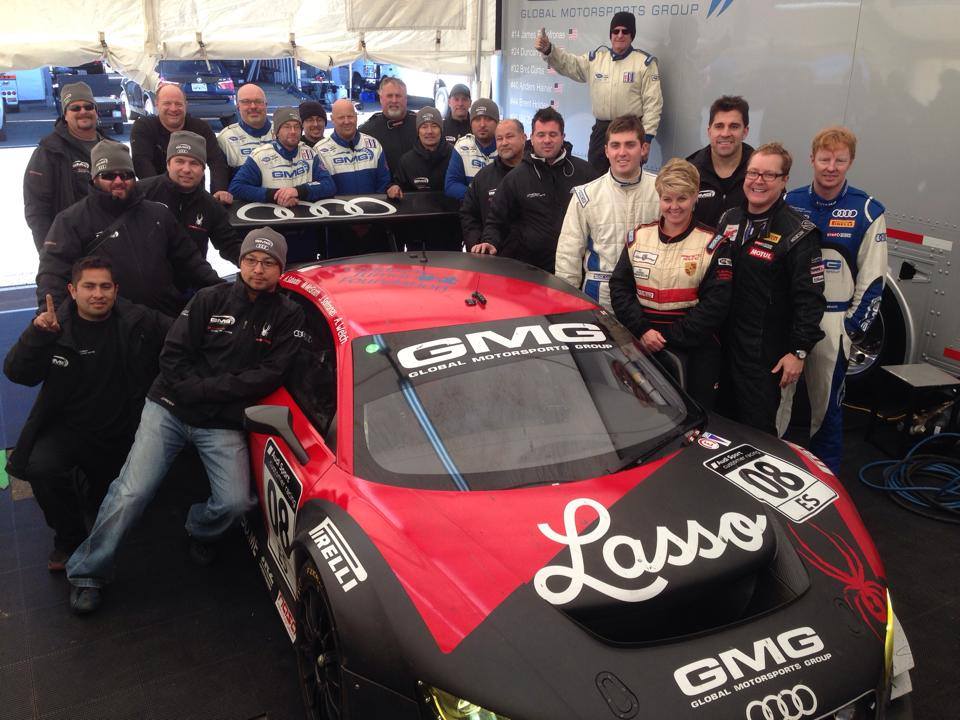 GMG Racing Press Release
Following a successful season that saw the team take runner-up honors in the Pirelli World Challenge, as well as both team and driver's championships in the Lamborghini Super Trofeo Series sportsman category, Global Motorsports Group (GMG) will cap a successful 2013 season with a run at this weekend's NASA 25 Hours of Thunderhill.
"In all of our years of professional competition, we've never actually been to the 25 Hour as a team," stated GMG team owner James Sofronas. "The race has earned a unique distinction and character over the years, and as the longest endurance race in North America, I'm really looking forward to coming out. We have a great car for this in the Audi R8 LMS, obviously the best crew in the business, and Alex has done a great job assembling a driving team. It should be fun, but ask me again on Sunday afternoon."
Joining Sofronas will be a strong contingent of Colorado-based drivers. Taking the wheel in the No. 08 Spyder Audi R8 LMS in the race's premier ES category will be Alex Welch, Alexandra Sabados, Michael McGrath, and Drew Regitz.
The team will also feature sponsorship from Spyder, a long-time supporter of both Alex Welch and GMG. Supplying technology-driven apparel designed for handling cold weather conditions, the insulated clothing line normally used in the snow, will serve well in the notoriously cold conditions of Thunderhill.
GMG veteran Alex Welch is no stranger to sportscar and endurance success. So far in 2013, Welch not only garnered multiple top-five finishes in his Spyder Audi R8 running in the Pirelli World Challenge Series, but also took two victories in the Lamborghini Super Trofeo Series. Welch was not only a competitor in last year's 25 Hours of Thunderhill, but also has endurance experience in some of the country's endurance classics such as the 12 Hours of Sebring in the American Le Mans Series. Looking for redemption following a disappointing 2012 campaign at Thunderhill, the Cherry Hills, Colorado resident is prepared.
"We had a difficult race last year with a different team, and unfortunately the results weren't what we wanted," stated Welch. "This year, with GMG and our own car, our primary goal is to finish. Porsche has won this race the last several years, and the Audi should be a great challenger with a proven endurance platform. I've raced with every one of my co-drivers for several years, and it's a great assembly of talent. Everyone drives very clean, very smart, and that sort of patience will be key in being there at the end."
Alexandra Sabados, from Castle Rock, Colorado is no stranger to speed. Starting her racing career in downhill skiing, Sabados has risen through the various ranks with her vintage 1974 Porsche RSR, and most recently took the 2010 NASA GTS4 title. This will be her first 25 Hours of Thunderhill.
Michael McGrath, also from Cherry Hills, will be making his Thunderhill debut. Also no stranger to speed, McGrath grew up as an avid karter before recently moving up to Porsche where he took his class championship with the Porsche Club of America (PCA).
Finally, joining the group will be Denver-based Drew Regitz. Though new to endurance racing, Regitz has plenty of miles under his belt, most recently competing in the GTS category of the Pirelli World Challenge.
Being joined by James Sofronas, who himself has driven numerous times at The 12 Hours of Sebring as well as The Rolex 24 at Daytona, the team's Audi campaign promises to be a strong one.
For those interested in following the race, live coverage will be provided on endurance-radio.com along with on-going posts on GMG's Facebook and Twitter feeds.
Photo credit:
GMG Racing