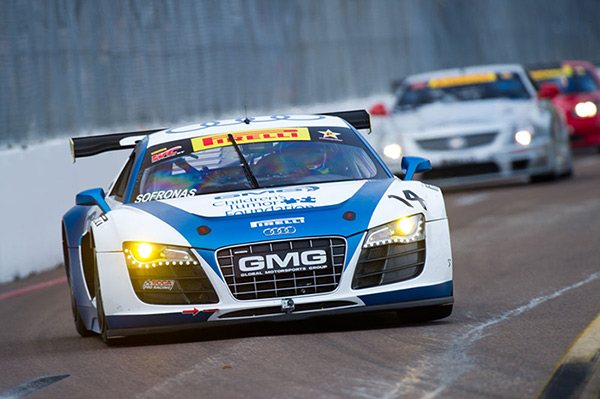 SANTA ANA, Calif. (October 3, 2013)-
Following a roller coaster of a season that has seen James Sofronas and the entire Global Motorsports Group (GMG) in a season-long championship battle with Johnny O'Connell's No. 3 Cadillac CTS-V.R, everything will boil down to this Sunday's finale during the Foametix Grand Prix of Houston.
"Whatever happens on Sunday, everyone on this team should be proud of getting to this point," stated Sofronas. "We've come so close to winning this thing in the past, nothing would make me happier than to finally take it; especially in our first full year with Audi. The way the points are shaping up, it should be a straight fight between Johnny and I on Sunday, so we'll just have to keep our heads down and see where it goes."
With Sofronas and the No.14 The Thermal Club / Hoffman Power Weight / Swisher Racing / Mobil 1 Audi R8 LMS a mere 21 points ahead of their Cadillac challengers, Sunday's race promises to be a close fight. With World Challenge's point system, a series of pole positions, fastest laps and victories by O'Connell could usurp the GMG team regardless finishing position. With that the Villa Park, California resident knows he must do everything he can to say ahead.
Luckily for James, he will not go it alone as the team will welcome Audi factory driver René Rast to the fold this weekend. Driving the No. 95 Swisher Racing Audi R8 LMS, Rast will join Sofronas in an effort to bolster the team's championship hopes.
Rast, from Minden, Germany, will be making his debut in the Pirelli World Challenge but is no stranger to American competition. In 2012, he won the Rolex 24 Hours at Daytona, and followed it up with a podium run during this year's event. He currently competes in the FIA GT series, where he has taken multiple pole positions.
This is all possible thanks to GMG veteran Bill Ziegler, who came up with the idea to step out of his No. 95 Swisher Racing machine in favor of the talented German.
"I can't tell you how much it means to me that Bill has so graciously allowed René to run with us this weekend," continued Sofronas. "Bill and everyone at Swisher Racing have been such a loyal part of the GMG program, that you can never fully pay back what they've done to help out. Similarly, Audi has really gone out of their way to help us out in securing René. His record speaks for itself, and it will bolster our team effort that much more."
Practice for this weekend's event begin tomorrow morning at 8:35AM CT, with the race taking place on Sunday. Live coverage of the series finale can be found live on

world-challengetv.com

at 10:45AM CT.