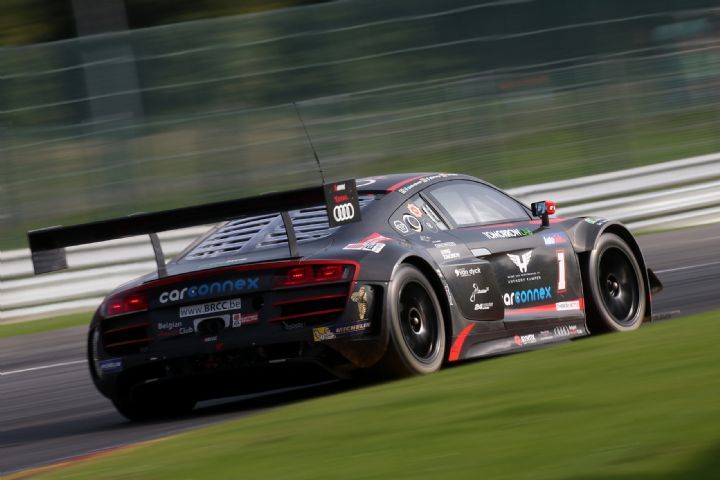 By Tarek Ramchani
PK Carsport scored a great victory yesterday at Spa-Francorchamps with their brand new Audi R8 LMS ultra. The Belgian Audi Sport customer racing team was impressive in the Belgian Racing Car Championship (BRCC) 3-hour endurance race
The winning #1 Audi was shared by Anthony Kumpen, Bert Longin and Frank Belien. The three drivers finished ahead of the #100 Aston Martin V12 Vantage and the #99 Porsche 997 GT3-R.
After a lot of bad luck in the opening rounds of the BRCC, PK Carsport drivers, team members and the Belgian Audi Club were delighted with this great race win.
Yes we won #Belgian #GT with @BelgianAudiClub @heinzperform @Audi__Sport and my mate @bertlongin .. Great team Pk Audi team
— Anthony Kumpen (@AnthonyKumpen) September 7, 2014
P1 #BelgianAudiClub #AudiMotorsport #BRCC @Audi_MS_Blog @AnthonyKumpen @frankbelien @PKCarsport yes yes yes we... http://t.co/wvrV2EDQay
— bert longin (@bertlongin) September 7, 2014
Another Audi team entered the BRCC round 5 with an old specification R8 LMS, JB Motorsport from Sweden. The #3 car in the hands of Jan Brunstedt, Mikael Bender and Magnus Dybeck finished in a strong fourth overall and took a fine GTP class victory.
BRCC round 5 results can be seen
here
.
Photo credit:
BRCC