By Johan Laubscher
The Czech I.S.R Racing team has been reported to be looking at possibly running an Audi R8 LMS ultra at the 2014 Spa 24 Hours.
The news was posted by Endurance-Info on Tuesday. I.S.R Racing would join a number of Audi Sport customer racing on the grid at the Spa 24 Hours, round seven of the Blancpain GT Series, round four of the Blancpain Endurance Series.
More can be read at Endurance-Info.com
HERE
.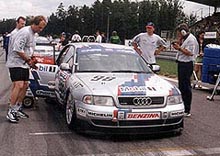 1998 - Josef Venc Audi A4 - I.S.R Racing
I.S.R Racing may be known for competing in the Formula Renault 3.5 Series, but this would not be I.S.R. Racing's first venture with Audi race cars.
During the mid-90s the team competed with Audi in the Czech and FIA Central European Super Touring Car Championships. They won the 1996 Czech title with an Audi 80 Competition and followed that up by winning the 1997 and 1998 Central European titles with an Audi A4 quattro STW, all driven by Josef Venc.