The finale of the Spezial Tourenwagen Trophy was held at the Nürburgring this weekend. A very large grid took part, including six Audi race cars.
The list of private Audi entrants included one Audi R8 LMS ultra. The R8 LMS ultra was the car of Berthold Gruhn, who debuted his #29 Audi R8 LMS ultra at the previous round. The car is run by Rotary Motorsport IG. The original entry list included two Audi R8 LMS ultra cars. Gruhn's R8 LMS ultra was alongside a single entry from Prosperia C.ABT Racing, as the #49 Audi R8 LMS ultra of Slobodan Cvetkovic, who had taken part in some of the STT rounds during 2013, was also listed, however they did not take part this weekend.

The Audi R8 LMS ultra was entered in the "Klasse 2" class. This class also included the #46 Audi S4 B5 driven by Ulf Ehninger and Jochen Ayasse.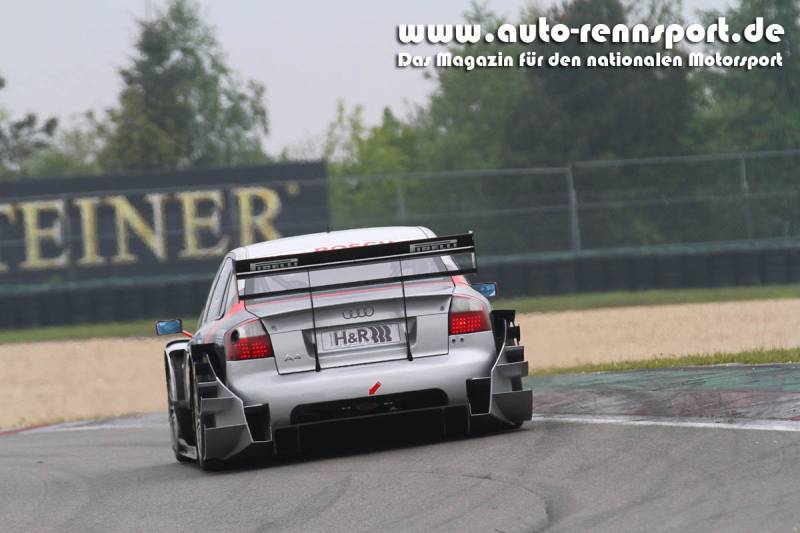 The classes are split between divisions one and two. Division 1 includes "Klasse 2" as well as the "Klasse 11 STT Spezial," which included one of the front runners and regular STT competitor, Edy Kamm, in his 2004 Audi A4 DTM R11. Three more Audis were included in two of the other classes within Division 2. "Klasse 7" saw the entry of Marc Roth in his #65 Audi A4 quattro STW. The final two entrants were in "Klasse 4," the #33 Audi A3 of René Freisberg and the #12 ex-ROC French Supertourisme Audi 80 of Joachim Duscher.
Two STT races were held at the Nürburgring during the weekend. Qualifying for the first race saw Berthold Gruhn as the highest Division 1 qualifier, placing his Audi R8 LMS ultra in ninth place. All three of the Audis within the Division 2 ranks placed within their overall class top ten, with René Freisberg taking pole in his Audi A3, ahead of Roth in eighth and Duscher in ninth.
The grid for race two saw Edy Kamm back on the front row, as he put his A4 DTM in second position overall and within Division 1. A trio of Audis placed within the top four in Division 2. René Freisberg took second on the grid, ahead of Joachim Duscher in third, followed by Marc Roth in fourth.
Race one was the scene for a double victory by the Audi teams. Edy Kamm took the overall, Division 1 and Klasse 11 victory with his Audi A4 DTM. Berthold Gruhn and his R8 LMS ultra placed fifteenth within Division 1 and took third place within Klasse 2. The #46 Audi S4 unfortunately retired. René Freisberg was victorious with his A3 in Division 2 and Klasse 4. Joachim Duscher placed third within Division 2, also taking third within Klasse 4. Marc Roth finished fifth within Division 2 and took victory in Klasse 7.
Edy Kamm made it two from two by winning the final race in his A4 DTM. Berthold Gruhn finished twenty-first in Division 1 and third again within Klasse 2. The #46 Audi S4 was fourth in class. René Freisberg finished second within Division 2 and in Klasse 4, followed by Joachim Duscher in third. Marc Roth won Klasse 7 again and finished fourth within Division 2.
This weekend concluded the 2013 Spezial Tourenwagen Trophy season, a year which again saw multiple private Audi race cars taking part.