By Johan Laubscher
The 2013 SCCA National Championship Runoffs took place at Road America this week. It was the fiftieth anniversary of this prestigious event and two Audis were entered in two different classes. The first Audi entered race was held early on Friday morning and Joel Weinberger performed very well in his Audi A4.
The event normally takes place with an all-week format, as practice and testing begins on Monday, followed by the racing taking place from Friday to Sunday. Each of the various SCCA categories has one race with a duration of thirteen laps or forty minutes, whichever comes first.
Two Audis had been entered in two different classes at the Runoffs this year. The first entry was that of Limitless Racing, with their Audi R8 GRAND-AM entered in the SCCA GT2 class. The second Audi car was entered in the STU class, the Continental Racing Audi A4 of Joel Weinberger. His B7 A4 is one of the ex-Stasis SCCA World Challenge touring cars. Weinberger is a strong and regular Runoffs competitor. He has previously won the STU class at the 2011 Runoffs and he again performed well last year by finishing runner-up.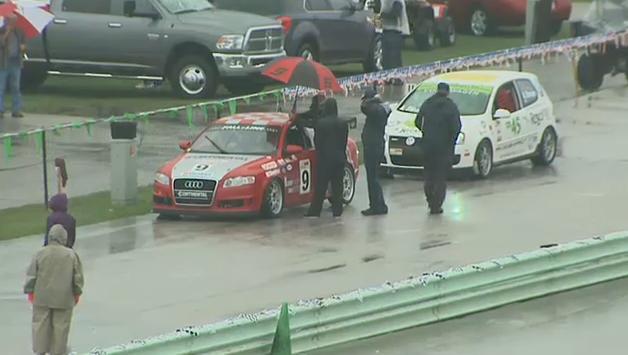 Qualifying was held over two days, with two sessions for each of the classes. Qualifying for STU saw Weinberger suffering a brakes issue which dropped him back, this after he had been running at the front during practice. The team managed to fix the issues for qualifying on day two, but with unfavourable weather conditions the times were not bettered from day one and he would line up ninth for the STU race.
It so happened that both of the Audi entered races took place on Friday morning, with the STU race being the very first race to kick off proceedings at the Runoffs. At 8:45 am local time the STU grid got underway in very wet conditions. Weinberger, armed with quattro, was able to progress well through the field. He steadily moved up to third, his eventual finishing position.
After a tremendous lead battle the STU race was won by
Elivan Goulart
in his #72 Lotus ahead of the #98 Mazda of
Marc Hoover
.
This finish marked Joel Weinberger's fourth consecutive STU podium finish with his Audi: 2010 - 2nd, 2011 - 1st, 2012 - 2nd and 2013 - third.
Update: The final STU results were released on Saturday, revealing that Marc Hoover's Mazda was disqualified after the post-race technical inspection, thus promoting Weinberger to second place overall in STU.

Joel Weinberger mentioned the disqualification on his Continental Racing Facebook page:

"Update Official results released for STU Class. Marc Hoover's Miata was DQ'd in post-race tech, so I officially came in P2. Sad for Marc in a way - he's the epitome of the SCCA racer."
Photo credit: